Rome
Steeped in thousands of years of triumphant history, there are ancient wonders to be found around every corner in Rome.
---
What you need to know about Rome
Language: Italian is the local language in Rome. Many shopkeepers, restaurant staff and hotel employees will speak some english but learn some basic Italian phrases out of politeness before you travel so you can order your gelato like a local.
Currency: The Euro is the currency in Rome and throughout Italy.
Banking: ATMs can be found on most main streets and credit/debit cards are accepted widely so you will have no problems paying for anything on your Roman holiday.
Weather: The weather in the summer time is hot! Street sellers often offer parasols and bottles of freezing cold water to suffering tourists who perhaps were unprepared. Bring your suncream and make sure you don't burn when walking around the tourist spots.
---
The majesty of Rome
It may be a buzzing, vibrant modern city but when you travel to Rome you can not get past the sheer amount of history right in front of your eyes. The city is a living monument to the days when the Romans ruled the world and when to be 'Romano' meant being part of the most powerful civilisation on the planet.
Nowadays the tourism industry has conquered the city which is great news for anyone having a holiday. You can now see the sights up close without needing to be a gladiator, papal envoy or a Caesar.
A unique mix of the oldest, newest and coolest
Rome has a unique and potent mix of ruins that inspire awe, incredible collections of frescos & art adorning galleries, cathedrals and church galore, all surrounded by contemporary restaurants with food that will make you scream "Mamma Mia!"
You can see the most famous sights in a weekend, but to truly get the most out of the city you're best to book up four or five days and get a proper Roman holiday.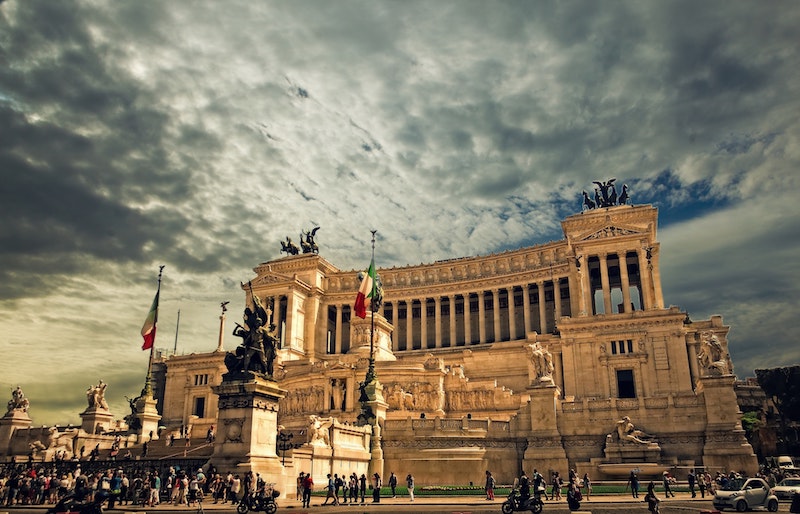 History, history... oh and more history
After three millennia spent building, rebuilding, modernising and the inevitable excavating of lost treasures, the city of Rome has become a tapestry like no other.
Iconic, ancient places of interest include the Colosseum, Trevi Fountain and Spanish Steps hark back to the Roman Empire being the most dominant and expansive empire of the ancient world. The former glory may be no more in modern times but its legacy is written in the very stone of the city.
St Peter's Basilica with wondrous domes, statues and ornate columns stands proudly as the Catholic church's most unbelievable example of renaissance architecture. For us though, the Sistine Chapel is peerless, simply stunning and worth the trip to Italy's capital city alone.
That's a spicy (delicious!) meatball
There are countless places to grab pizza, pasta and to have your fill of the local larder. We will, to be 100% clear, meet you any time you want in our (favourite) Italian restaurant. Unsurprisingly pizza and pasta are plentiful and make up the majority of the menus you will find in restaurants in Rome. Globedge recommendation is to shun the big signs offering discounts and 'authentic Italian food' and instead find a little family run restaurant that locals eat at. Our personal favourite is Dodo Ristorante which is an understated place to look at near Via Nazionale, where you can find amazing pasta dishes at a reasonable price.
All roads lead to Rome but the train isn't bad either
The Rome Metro is known as "Metropolitana" by locals, and has two main lines that cross most of the main destinations you're likely to want to see. You can expect trains every 7-10 minutes, from 5:30am until 11.30pm every day (plus a little later on Saturday nights). You can buy a single ticket or a multi-trip pass at any automatic ticket machine or ticket booth on the network so it's the quickest, easiest way to get around the city. The Metro is also air-conditioned which can be a godsend on the hottest summer days.
If all else fails, go full native and rent a vespa - only for the daring traveler with a sense of the the city's geography though.
There are enough hotels to house a legion of travellers so get your travel plans in order and experience the wonder and majesty of Rome.